In this post, you will get ideas on:
11 VALUABLE FUN PARTY THEME IDEAS FOR A ZINGER BACHELORETTE PARTY

The key to any planning is organization. To get the ball rolling, you'll need to speak with the guest of honor about your intentions. Discuss the guest list and any activities the bride should know about.
If you're planning a surprise party, remember that the bride's calendar is typically cluttered in the final days before the wedding. You should clear the date with her and still keep the party details a secret. Keep in mind that she's likely to be embarrassed by some of the activities- that's part of the fun. But try to avoid anything that might upset her.
In this post, you will get ideas on:
Theme planning will give your party a distinct personality. Think about fun ways to coordinate the festivities using the bride's occupation, hobbies, honeymoon destination, and so on as starting points. Your theme can be woven into every party detail or lightly sprinkled throughout various activities.
We found a few suggestions for theme parties complete with invitations, activities, favors, and general tips to get you started.
11 Awesome Valuable Fun Party Themes
Here's the perfect opportunity for bachelorettes to actually wear a bridesmaid's dress again! Instruct each guest to choose the most embarrassing one she owns for this unique costume party.
Invitations
For the front of your invitations, make copies of an old wedding picture that includes bridesmaids. Fill speech bubbles near the bridesmaids' mouths with funny comments such as "As if the dress isn't bad, enough, I have good shoes dyed to match it!" or "Can you believe my best friend made me wear this?"
Party Scene
This party should definitely be held in a public place. Award costume prizes such as "The Best Preserved," "The Best Color," and "The Most Flattering." Make a special toast each time a stranger comments on the dresses.
Favors
Give each guest a small bridesmaid's bouquet to carry with her throughout the evening. As the party winds down, present each bridesmaid with a never-been-worn dyed pump filled with candy and other trinkets. Wrap the shoes in cellophane and tie each with a pretty box.
At this party bachelorette morn the passing of the bride's single days by stagging funeral-like yet fun-loving activities.
Invitations
Etch the party details on card stock cut into the shape of a tombstone.
Party Scene
Ask guests to wear black and the bride to wear white. Hire a hearse to transport eh bride to the party location while guests follow in a car procession with headlights on. If you hire a band for the party, ask them to play a funeral march in the bride's honor. Have guests eulogize the bride with embarrassing stories from her past.
Favors
Make a condom corsage for each guest and a coordinating veil and train for the bride.
Weddings by K'Mich newsletter
Interested in getting more wedding tips, trends & DIY ideas from K'Mich? Sign up to receive our fabulous newsletter every Thursday and every other Wednesday
Enjoy a blast through the bride's past in a hysterical walk down memory lane. Try to keep the details a secret for this one.
Invitations
Select a funny photo of the bride as a cover. Enclose a self-addressed stamped envelope and ask guests to mail copies of other fun photos. Slip a few beans into each invitation to remind guests not the spill the beans about the party's intentions.
Party Scene
Enlarge the funny photos, hang them as posters, and challenge bachelorettes to a Caption Contest. Arrange for special guests to make surprise appearances in the 'This Is Your Life" portion of the party. Recruit a favorite teacher, coach, prom date, or long-distance friend of the bride.
For real laughs, have someone pretend to be the bride's favorite teen idol. Seat the bride in the center of the room and have an MC tell stories while surprise guests remain hidden in an adjoining room. Keep the bride in suspense as long as possible, then ask her to identify the surprise guest.
If you're heading out to celebrate, arrange to have an unflattering photo of the groom projected in larger-than-life proportions on a wall. Make sure everyone knows the geeky-looking guy is the groom. Assemble a memory basket for the bride or create a funny video that features pictures of the bride's childhood.
Secure photos from her parents and other relatives. You could play the video the night of the party and present it to the bride as a gift.
Favors
Give each bachelorette an armband garter to wear the night of the party. Attach a button that features a funny picture of the brides and the party date.
Strippers are the classic ingredients of the traditional bachelorette party.
Invitations
Buy some paper dolls or make your own out of card stock paper. Use a body outline from a child's coloring book as a template. Write party details on the doll's body and use cut-out clothing for a covering. Guests will need to strip the doll to find out party secrets.
Party Scene
Hire a stripper to make a special appearance at your party or make reservations to see exotic dancers. You could lead bachelorette to this destination by having them follow a trail of clothing. Serve chicken strips.
Favors
Provide guests with crisp dollar bills for tipping the dancers, or visit an adult novelty store to find items that strip.
A winetasting bachelorette party can make for a really grape evening.
Invitations
Design invitations to read like wine labels asking guests to join you at your favorite bar, restaurant, or chateau.
Party Scene
You don't have to be a wine expert to pull off a great party. Consult a book about wine for party ideas. You could provide a variety of wines or ask each guest to bring a bottle. Distribute glasses and let the tasting begin. Ask each guest to report her first impressions about each wine's color, smell, and taste.
Award prizes for the most creative responses. Provide bread and water for cleansing guests' palates between bottles. To decorate, use empty wine bottles as candle holders and accent with inexpensive grapevine wreaths and grape clusters. Create a delicious Wine and Cheese Fondue.
After the tasting, host a wineglass-decorating contest. Use paints made specifically for glass so the designs will last long after the wine has disappeared.
Also, you and your guests might want to collectively purchase a wine rack for the bride and have each guest bring her favorite vintage with a label attached indicating the circumstances under which the bottle should be opened. For example, a guest could request that her bottle be uncorked on the couple's fifth
wedding anniversary
or after they move into a new house.
Favors
Send each guest home with a corkscrew. Attach a notecard that reads, "Thanks for screwing around with us (bride's name)'s bachelorette party." You could also hire an artist to paint guests' caricatures on wine-glasses.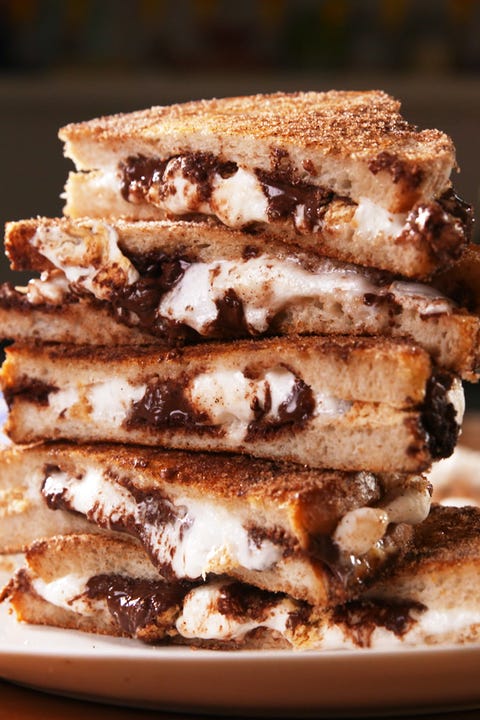 Chocolate Grilled Cheese (delish.com)
Try a girls' night in. This relaxing break from tradition might be just what your bachelorette crew is looking for.
Invitations
Design invitations to resemble movie tickets, or play off the pajama party theme by placing a picture of the bride as a little girl wearing pajamas on the cover.
Party Scene
Invite guests to bring their favorite comfort foods and recipes. Supply the froo-froo drinks, large bowls of popcorn, and a hefty supply of chick flicks to generate a night of good old-fashioned pajama party fun. Canvas the venue with movie posters. Play the following Hollywood drinking game. Sit in a circle and take turns naming actresses.
After a name is called, go around the circle one at a time and have guests name movies starring the actress. Limit the response time to fifteen seconds. Anyone who draws a blank before here time expires has to drink. You could also require guests to take a swig for each correct movie that other guests are able to name.
Favors
Send guests home with popcorn tins, fuzzy slippers, or personalized nightshirts.
Variation
Add the drama of the Academy Awards to your special evening. Send fancy invitations asking each guest to come dressed as her favorite actress from a chick flick. Present silly awards such as "Most Dramatic" to guests who cries the most during the movie. Her trophy could be a box of tissues. Boys beware. Guests might want to make this party an annual tradition.
What could be more fun than a bachelorette soiree that pays tribute to the country known for its kiss?
Invitations
Attach party details to anything that has to do with Pepe Le Pew or the Eiffel Tower. You could also write the party information on the loaves of French bread to be hand-delivered.
Party Scene
Sever French onion soup and decant pastries at home or make reservations at a French restaurant. Bon appetit! Toast the bride with a bottle of Dom Perignon to really impress your guests. Also, check out the French Kiss-shot.
You could dress the guest of honor in a French maid's costume and make berets out to felt for the guests to wear the night of the party. Provide French manicures and invite guests to bring personal presents for the brides' boudoir.
Favors
Say bon soir with tiny bottles of French perfume or personalized French maid aprons.
Variation
Head to the French Quarter in New Orleans and give your party a Mardi Gras twist.
8. A -Traveling We Will Go
A bachelorette party that goes on the road can provide a lifetime of memories.
Invitations
Insert party details into luggage tags. Include a detailed itinerary of your trip so guests will be clear on times, dress, costs, and so on. A thoughtful hostess will keep the expenses within reason, making sure that no guest feels overtaxed or unable to attend.
Party Scene
This party could be designed for an intimate few or for several guests. It could take you far from home or just around the corner. For example, you could make plans to attend a male revue in Las Vegas or opt for a night of barhopping (maybe not now) and hotel accommodations within stumbling distance. For added fun, keep the destination a surprise to both guests and bride, though this might be tricky.
There will be many details to lockdown before you leave, and once you set foot on foreign soil, even the most trivial preparations will be greatly appreciated. Welcome each guest to the party with a disposable camera so that she can record her version of the bachelorette activities.
Challenge guests to see who can collect the most our-of-town business cards from eligible bachelors. Keep in mind that off-season travel packages and group discounts may be available. Also, make sure that everyone has a passport if necessary.
Favors
Make inexpensive tote bags for each guest from men's boxer shorts. You could also distribute the totes ahead of time, specifying that guests bring no more than whey they can fit into the tote, if feasible.
Here's a theme that will spice things up.
Invitations
Attach party details to a package of spicy seasoning or a box of Hot Tamales candies.
Party Scene
Decorate with lots of dried red chili peppers. Invite guests to bring the bride anything they feel will spice up her marriage. Creative options might include sexy lingerie ora Mexican cookbook. You might plan to give the bride a spice rack and ask each guest to bring a bottle of her favorite spice to fill the rack. Serve hot, spicy foods or go out to a restaurant that serves the same.
Favors
Personalize an oven mitt for each bachelorette or send each guest home with a jar of homemade salsa.
Treat your bachelorette revelers to a night of luxury and decadence.
Invitations
Place slips of paper containing party details in champagne glasses wrapped in tulle. Arrange to have them delivered on a silver tray by a gentleman dressed in a tuxedo. If that's not feasible, mail scented invitation attached to powder puffs.
Party Scene
In preparation for a night on the town, arrange for a masseuse and manicurist to be on hand for the warm-up party. Or, have guests paint each other's nails using a wide variety of nail polishes that you've provided. Encourage guests to wear their most luxurious robes and slippers for the pamper party and to bring a change of clothes for later festivities. Serve umbrella drinks and bonbons.
Favors
Provide inexpensive sunglasses as party favors so your bachelorettes will be able to endure the paparazzi.
It's time to pull out your rubber raincoats and rubber boots. You can leave the umbrellas at home- after all, this is a bachelorette party, not a bridal shower.
Invitations
Using a permanent felt-tip marker, write party details on inflated condoms. Then deflate the condoms and attach note cards that read "Blow me".
A second option would involve gluing several rolled-up condoms to the front of each invitation. Attach a piece of ribbon on the bottom of each to make the condoms resemble a bouquet of balloons.
A third option is to send custom-designed Rubbergrams to each guest. Order them online at www.rubbergrams.com. Your personalized Tubbergram invitations will arrive in plastics jars that guests will be instructed to open and fill with water. They'll be amazed as a condom emerges and inflates to reveal party details!
Party Scene
This is a party where anything rubber goes. Hang prophylactic balloons from the ceiling with rubber bands. (Try the glow-in-the-dark kind). Use a rubber plant as a centerpiece. Insert condom cocktail stirrers in drinks. Serve party foods in Rubbermaid containers and invite guests to package their gifts in the same.
Award a rubber ducky or jar of rubber cement to the bachelorette who presents the most creative packaging. The bride enjoys the added bonus of using these packages for practical purposes after the party. For an activity that stays in theme, try rubber-stamp gift items for the bride.
Favors
Send each guest home with a pair of rubber gloves. Or, create designer rubber jewelry for each guest.
These 11 Zingers Will Make Your Bachelorette Party Be In the SpotligF
Final thought
The bachelorette party gives the bride-to-be a chance to decompress. It gives her an opportunity to temporarily throw the rules of etiquette to the wind and just have fun. It also gives her a chance to spend quality party time with her closest friends and relatives.