Can wedding dresses be dyed? Yes of course! Why not? In fact, this isn't something new. It might be rare but not new.

Over the years, a lot of soon-to-be brides who are creative thinkers, have looked out for ways to experiment with the color of the traditional white wedding dress. The results have been staggering. You'll know what we mean when you see the samples we have for you.

But guess what? Not only can wedding dresses be dip dyed but some professionals can help you out with it. If you were thinking of doing it yourself, then it's okay as well, and we'll guide you.

But we highly recommend you take it to the professionals because your wedding dress is not something you want to be experimenting on. There's a high chance that you'll end up ruining your dress.




Good Reasons to dip dye wedding dress

Different individuals have various reasons why they dye their wedding dresses. Here are the most common.

To get Creative, and Come up with Something New or Rare:

Sometimes, if everyone is doing something a particular way, it's smart for you to try out other ways and see where it leads. In this case, who says wedding dresses always have to be in plain white? You can get creative with it, and add a touch of your favorite color. If done right, your wedding dress is surely going to leave a long-lasting impression on you, and your guest.

After the wedding, what next for the wedding dress? For those that rented it, they would simply return it, but for those that bought it, it becomes nothing more than a souvenir. This is why many brides would go to the drawing board and look out for creative ways to implement the dress into their everyday wardrobe.

To Put it in one's Favorite Colors:

Many people are obsessed with their favorite color that you see it in their clothes, car, house interior, hair, and more. Applying that color to your wedding dress is one of many ways to be surrounded or wrapped in the color you love. This helps elevate your mood and brings a confident and pleasant aura.

To try out Something you saw Someone else do because you Love it:

Many people are inspired to dye their wedding dress having seen it work tremendous results for others. It might be something they saw in magazines, blogs, or at a wedding.

If you plan on doing-it-yourself, keep these things in mind:
top 4 Things To Keep In Mind for an ombre look:
Do not attempt to do it yourselves

Make sure you dry clean your dress before proceeding.

Stains will affect the dyeing process and might even be emphasized in another color

Check with the boutique you purchased your dress to see if they offer this option. Or, see if they can give you referrals.

Bear in mind that any beading or embellishment on your dress will remain white when dyed, so don't go ahead with it unless you want the contrasting look!
Below, we have put together a few looks to give you an idea of different ombre styled dresses, that are made to turn heads at your wedding:
Dresses courtesy of Sweet Caroline Styles + Chrissy Waiching (Etsy)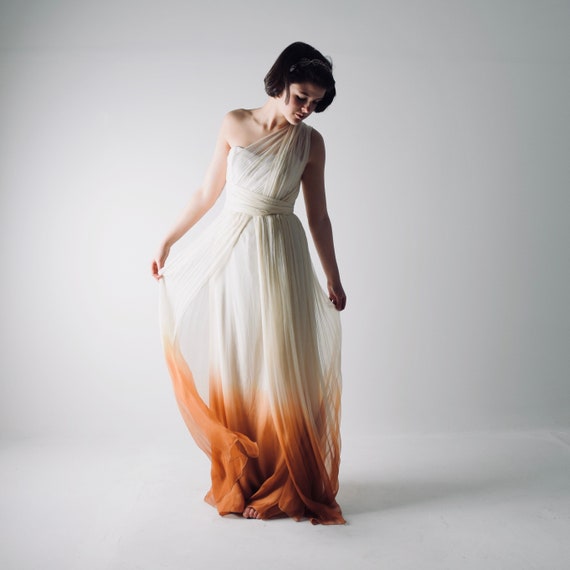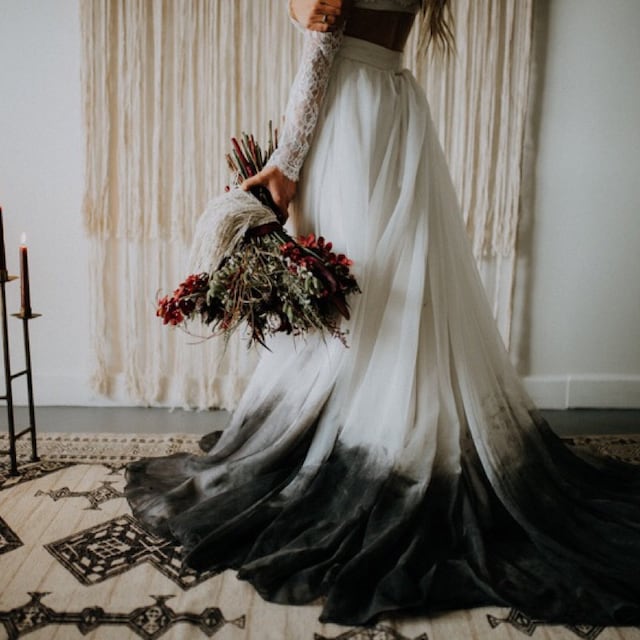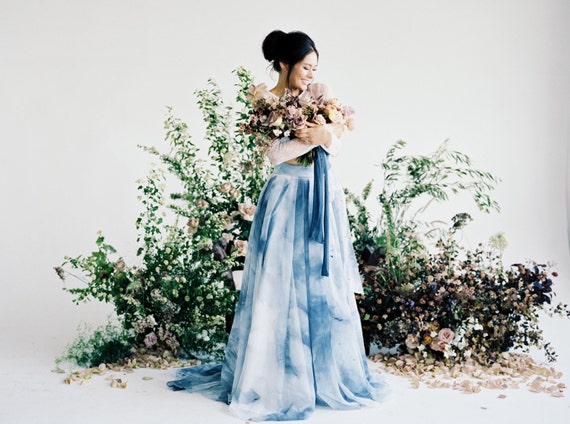 Our advice on Dyeing Wedding Dress
The traditional white wedding dress or a dyed one, are both great options. So in this case, it depends on what you want. One of the advantages a dye wedding dress has is its uniqueness because it's customized. If you are going to dye your wedding dress, then we suggest that you speak to a professional, like a dressmaker to get feedback.
We feel that every bride-to-be has their own unique story to tell, all of which lead to that pivotal moment of when she finally said "Yes.'' Make sure to capture that timeless moment which will tell another beautiful story that you, your family, and guests will remember forever.
I
f you want to know more about us or get the very latest trends and best practices to help guide your planning, check out our About Us page, then follow us on Pinterest or IG for more awesome wedding soiree ideas, and subscribe here at this link.
Updated: January 18, 2022