In this post, you will get ideas on:
This hidden gem will help you plan your virtual wedding ceremony
The virus can't stop you; take advantage of these tips.
Let's see a show of hands if you're indoors, bored, and close to talking to the ants in your house. Yup, same here. The Covid19 crisis has got people staying home all day, social distancing, no one traveling, businesses shutting down and moving their activities online, no parties, and worst still, no weddings! ‒ gasp. Since gatherings are prohibited to avoid the spread of the virus, and families couldn't travel, couples had to cancel or postpone their wedding plans.
You may have plans to tie the knot and now had to cancel it too. But what if I told you that you could still have your special day? What if I told you that you could go virtual with your wedding? Astonishing right? Well, we're about to show you how to do this using Zoom. We'll also tell you some interesting things you could do to spice up your virtual wedding. And if you aren't planning to get hitched soon, you could still put this in your wedding coordination ideas.
In this post, you will get ideas on:
1. WAYS TO USE ZOOM FOR A VIRTUAL CEREMONY
Zoom saw a dramatic increase in its use, as people all around the

world started using it to connect with each other,

especially educational institutions
ZOOM ISN'T JUST FOR BUSINESSES ANYMORE
Like those in the theater say – 'The show must go on!' Your wedding can go on, and we've got a great option for you.

Zoom

.

What is Zoom and how does it work?
Zoom Video Communications is a modern cloud-based, internet platform specially designed for remote conference calls through online meetings, chats, and mobile phone collaboration. This is where small, medium businesses gather to communicate remotely. It was founded by Eric Yuan in 2011 and its headquarters are based in San Jose, California.
Weddings by K'Mich Newsletter
Interested in getting more wedding tips, trends & DIY ideas from K'Mich? Sign up to receive our fabulous newsletter every Thursday and every other Wednesday
After the recent outbreak of the COVID-19 pandemic, Zoom saw a dramatic increase in its use, as people all around the world started using it to connect with each other, especially educational institutions, large businesses, and organizations to follow the protocols of social distancing.
Now, events are a part of their platform.
HOW DOES IT WORK?
It's very easy to use. You can host your ceremony with the free basic account which gives you a free 40-minute limit on group events and lets you invite up to 100 attendees – which is way more than you get in a courthouse wedding . If you want more guests or more time, you'll have to subscribe to a plan though. Your invitees don't need to have an account to join your wedding ceremony, they just need the invite ID .
FYI:
To spruce things up a little, you can send the link in an invitation to your guests with the help of Paperless Post, and add a great backing/backdrop from Canva to liven things up more. So, there is no boring here.
These backgrounds can be used in Zoom's interface.
2. SO WHAT IS THIS PAPERLESS POST?
Virtual Event
I
t's an online invitation design platform that lets you personalize cards, sends them out, and even enables your invitees' RSVP.
We've been using it for quite a while now to send holiday cards to our preferred vendors, clients, and such, and it is rather handy. You could try it too. To show you a preview of one of these babies, we've invited you to

your first virtual party

. Be sure to come with friends!

And just in case you are a DIY bride and need to postpone your wedding, there's also an

invite for that

.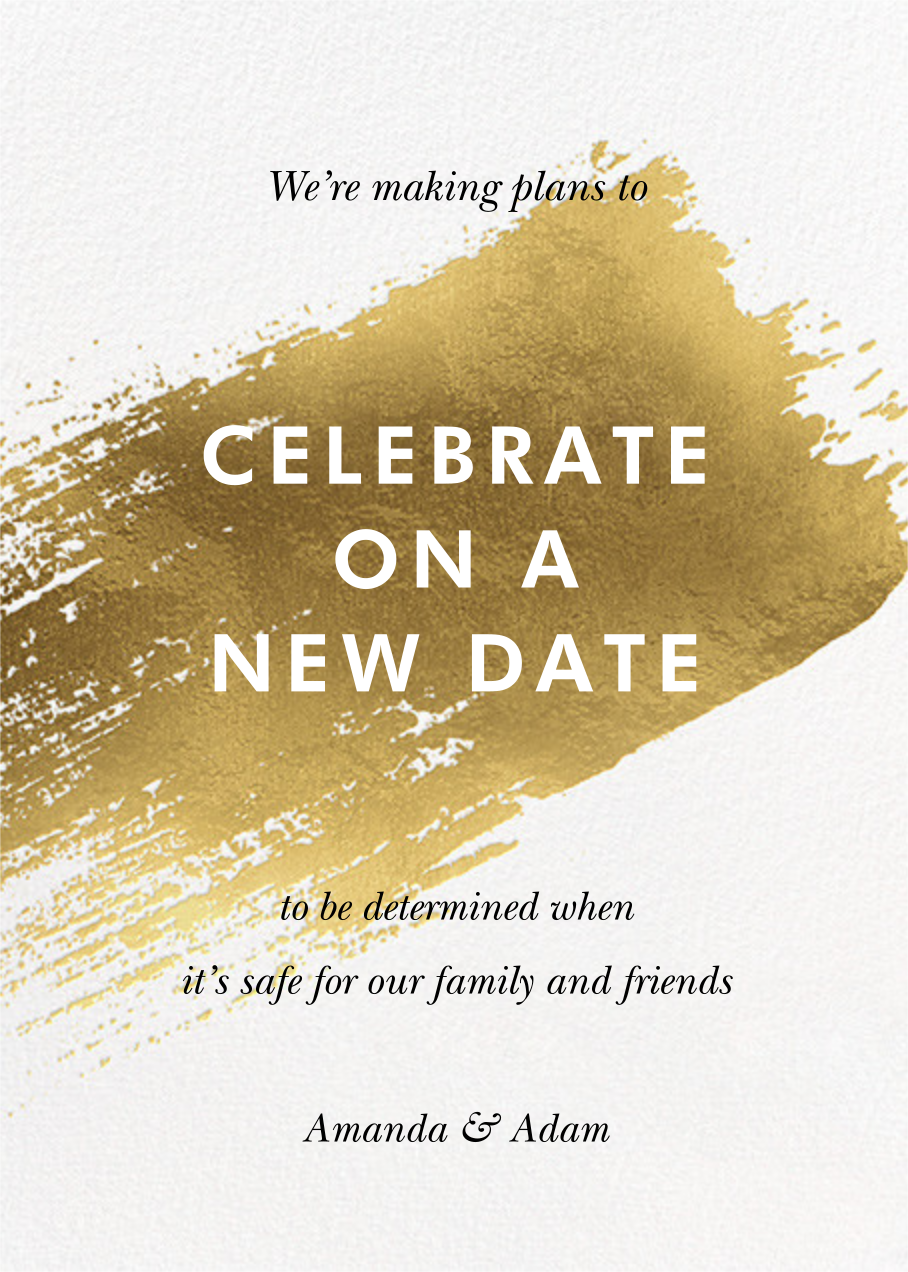 Online Wedding Postponement
You can start on Paperless by opening an account

here

.
3. MAKE YOUR VIRTUAL WEDDING CEREMONY POP
WITH CANVA

You're probably thinking – But, how do I decorate? – You could use backings (backdrops) for a

WOW factor

. How you say? Zoom has a feature located in your account's 'setup' menu that lets you use an image or video for your background. They have some cool backgrounds, but if you want your own pizzazz, you could use any of the free and customizable

backgrounds or backdrops

offered on Canva. See below.
So, what is Canva?

Canva is an easy-to-use graphic design platform where you can create a variety of graphics including cards, banners, flyers, and so on. You could make your own backdrop by signing up for free, browsing through available wedding templates, pick and customize it, download, use it on Zoom...and, voila, you've got that WOW effect.
Get your free Canva account

here

!
4. Who's going to officiate?
You can get your preferred officiant to physically join you and your partner – while maintaining the physical distance rule though or they could do it from wherever they are too.
5. What about the reception?...
Don't worry, all this is just for your ceremony. If you want, you can plan your gorgeous reception later when everything's back to normal and we can move freely. Maybe even send us an invite too.
HOW ZOOM CAN HELP YOU PLAN YOUR VIRTUAL WEDDING CEREMONY


Final thought
Now go-ahead plan your virtual wedding ceremony and join other happy couples who are using the '#zoomwedding' hashtag. Ben Jackson and Sophie Austin tied the knot by inviting 200 of their friends and relatives to witness their virtual wedding.