Top 3 best REASONS WHY NATURAL DRIED FLOWER IS A GOOD IDEA
Weddings are fabulous! The dress, the sparkles, and the flowers – let's not forget the flowers. They are the next thing you notice after you've gushed over the bride's dress, so they are a vital part of any wedding plan. Fresh blooms are fabulous, but they can be a hassle; with the wilting and all.

Well, we've got cool alternatives. Here, we're talking about natural dried/preserved flowers for your wedding day but there are even more ingenious ideas to make your wedding extra special. Keep in touch.
In this post, you get ideas on:
Dried flowers are definitely going to be the 2020 trend and possibly into 2021-2022, and should be part of your wedding day ideas, here's why!
Floral revival -The Top 3 Reasons Using Dried Flowers in Your Decor
Natural dried flowers (blooms, leaves, fronds, branches, plants, seed pods), and grasses which are preserved while they are still fresh and have not wilted, so they retain some of their colors even when not in season.
They will go well with any decor, can be dyed and used in floral arrangements. So, here are a few ways to use these beauts and what to think about.
Weddings by K'Mich Newsletter
Interested in getting more wedding tips, trends & DIY ideas from K'Mich? Sign up to receive our fabulous newsletter every Thursday and every other Wednesday
1.

BUDGET FRIENDLY/ECO FRIENDLY

(fit any budget)
Instead of spending an obscene amount of money on replacing wilted flowers, you can save the money and the planet by getting preserved blooms for your big day. The fun part is that they can come in various sizes. From your cute little boutonnieres and bouquets like this ivory masterpiece with snow-like sprigs of Gypsophila, eucalyptus leaves for that burgundy pop and Pampas grass for the complete bohemian look;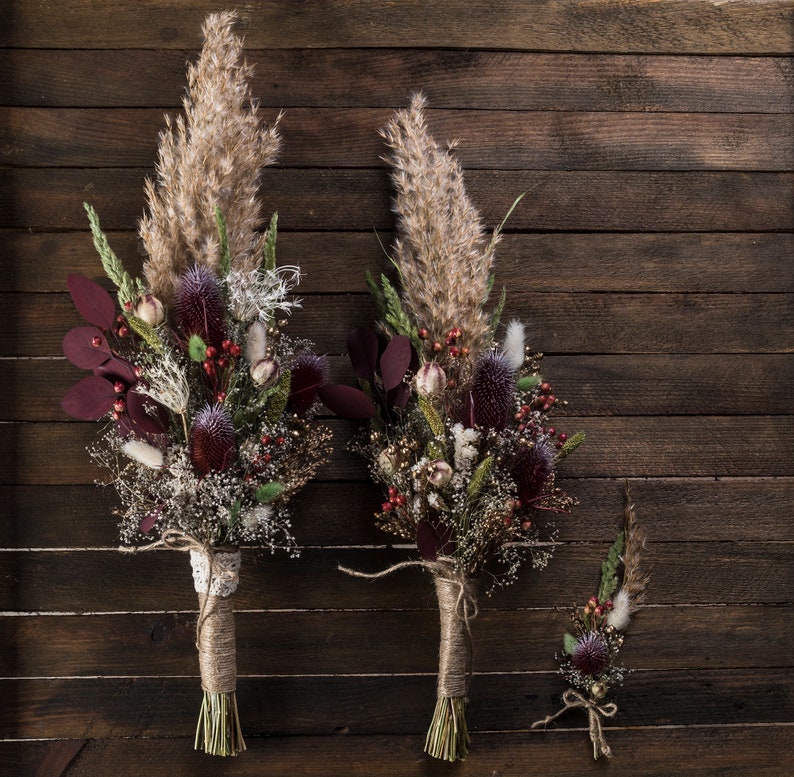 To an eye-grabbing chandelier floral installment like the masterpiece below. This style is becoming ever so popular with brides due to the unique ways to decorate them. See more wedding coordination ideas
2. THE PERFECT FIT FOR SOMETHING OLD...
Something old, something new, something borrowed, something blue. This is the classic combo a bride should have for a lucky wedding – or so they say.
The vintage-y vibe dried flowers give out is a perfect accent to the 'something old' requirement and would pair very well with any heirloom.

and BLUE…
Also, if you're planning to get hitched this year, you can undoubtedly tick 'something blue ' off your list. Know why? The color of the year is Classic Blue! Yep, this was announced by the famed American Color company, Pantone on the 4th of December 2019.
Blue is a color that resonates calm, trust, confidence, familiarity, and a strong foundation; themes which you would love to see in your wedding coordinator's idea board. So, why don't you go for a preserved floral bouquet that's also trendy this 2020! Or just use these dried floral fillers to get that muted, serene feel;
3. PERFECT FOR ALL SEASONS
Unlike what most people think, dried floral arrangements are not only for fall and autumn weddings, they can be used for any season – it's practically evergreen, wink wink. Especially if you want your wedding to have that unique, modern touch. These wrapped earthy hues of braided wheat, dried seed pods, and grasses certainly bring a warm, welcoming, and pleasant tone to your day.
What's more, they don't need you to water them and will stay 'fresh' in hot weather. You could even go halfsies on dried and fresh flowers to give that beautiful contrast, or if you just want to play it safe.
Your preserved bouquets , boutonnieres, centerpieces, and installments can last years after your wedding. They can serve as a lasting testament of the love you and your partner share.
The top floral trend in wedding: dried Flowe

rs
Final thoughts
So, why not give dried flowers a try? Make your special day ethereal with dried floral decor. Make those wedding memories last.
Got any questions or need more wedding coordination ideas? Feel free to contact us; we'll love to help.