Get Attention With These Unique Guest Book Ideas
Guest books are no longer the plain Jane's they used to be. In the old days, these books had little to no decoration - just a plain simple book with the words "Guestbook" written on the cover (and possibly with last names) in the bride's and groom's selected fonts. Then there would be a single soul on guestbook duty going around making sure that every single person signed...😮 Guests would sign if they felt compelled by guilt to do so, or if they were cornered by the person designated to make sure everyone signed. It felt like drudgery to have to stop by the table and sign your name.

However, this doesn't have to be. If everything about your wedding is exciting, vibrant, and full of energy then your guest books should reflect the same feeling. With these great ideas, there is no need for a guestbook assignment.😯😉
K'Mich Weddings 2020/2021 Newsletter
Interested in getting more wedding tips, trends & DIY ideas from K'Mich? Sign up to receive our fabulous newsletter every Thursday and every other Wednesday
Your guestbook will do the talking in letting your guests get involved. Your guests will have fun and be entertained at the same time. See these unique guest book ideas that delight and captivate because they are so creative and inspiring.
15 Guest Book Ideas That Your Guests Will Definitely Want to Sign
1. The Rustic Guest Book
Your guests will be surprised to sign this unique

R

ustic Guest Book

.

Custom made - engraved your wedding date, names, wedding color(s), and other fun stuff to this. The background is made of wood. You can pick your style when placing the order.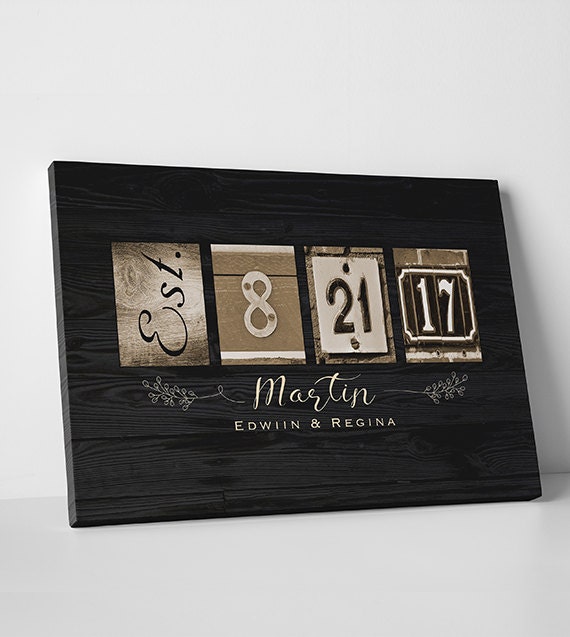 Esty (Alphabetcanva)
2.
The Clear Wedding Guest Book Letter
This

C

lear Wedding Guest Book Lette

r

can be used as a guestbook to gather the signatures from your wedding guests. Hang it in your home after your wedding day for a lovely decoration that is sure to be loved forever!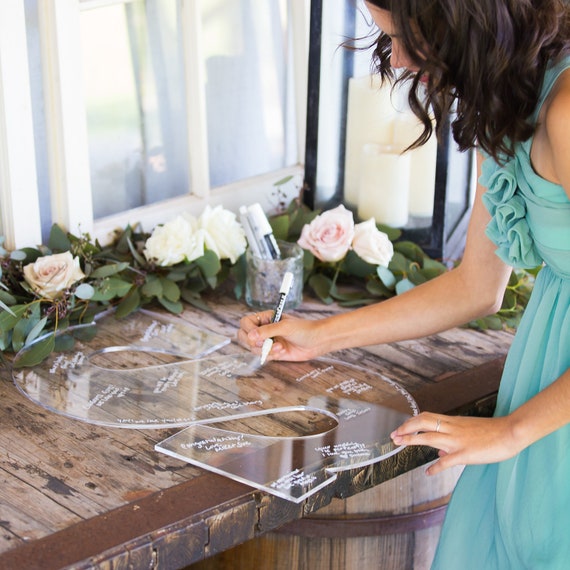 The Fabric Inspired

Quilt Guest Book

- For creative notices or even for a rustic ceremony, how about a panô to be your signature board? The panel is made up of scraps (it can be something blue, something borrowed, something old, etc) of rustic fabrics, then turns into a patchwork quilt full of advice, wishes, and quotes!
El Blog 7
The Travel Inspired -

Globe Guest Book:

This beautiful hand-painted (your wedding color) 10" globe ornament will add a lovely touch to any wedding. A wonderful way for you to keep memories of your guest best wishes on your special day! The directions of friends for future trips will surely come! Pens can be your wedding colors. See our post (What will Your Invitation Say About Your Wedding)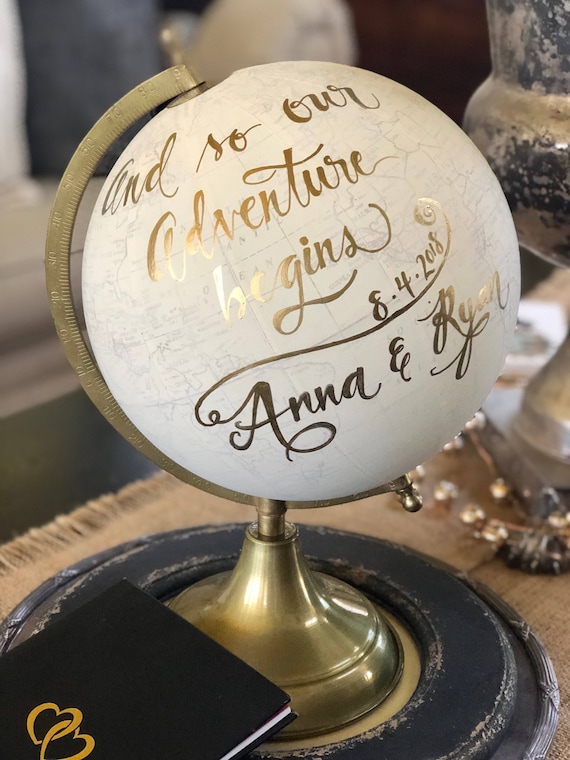 (Esty) Whole World of Love
5. The Hearts Laser Cut Wood
Etsy
The

G

uest Book Puzzle

is laser cut and the pieces correspond to the number of guests. Urban Farmhouse Tampa engraves the happy couple's names and wedding date in the middle of the birchwood product. The shop customizes each piece to fit the number of attendees, as well as the sizing dimensions as desired by the bride and groom.
Esty (Urban Farmhouse)
7-8

.

The

Jenga-Style Game &

Dominoes
The Motivate a friendly

Jenga-style game.

The best part, however, is that each block is engraved— perhaps with the initials or names of each attendant. Guests can be invited to write their wishes or advice on the designated wooden blocks. At the end of the event, this would make for a wonderful keepsake. Or, go with the

Dominoes

below; the concept is the same.
Esty (Down in the Boondocks)
8.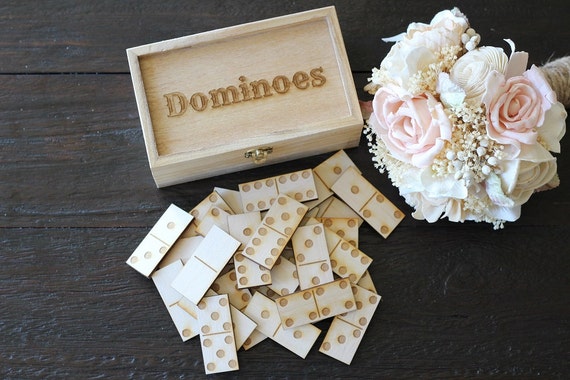 Esty (Down in the Boondocks)
9-10. The Country Charm Wooden Wish Box & Shadow DropBox Guest Book
The
Country Charm Wooden Wish Box
-
Alternative Guest Book or Wishing Well with Stationary. Invite your guests to create a charming keepsake that you will enjoy long after the big day. This unique wish box has been designed to accommodate small scrolls (Wishing Box can fit approximately 170 scrolls) containing the handwritten messages from your guests. When complete, this will make a sentimental display that will be filled with wisdom, memories, and kind words all packaged in the most delightful way. Made of whitewashed wood, metal mesh and glass front panel with latch. OR, go with the rustic look below -
Shadow DropBox Guest Book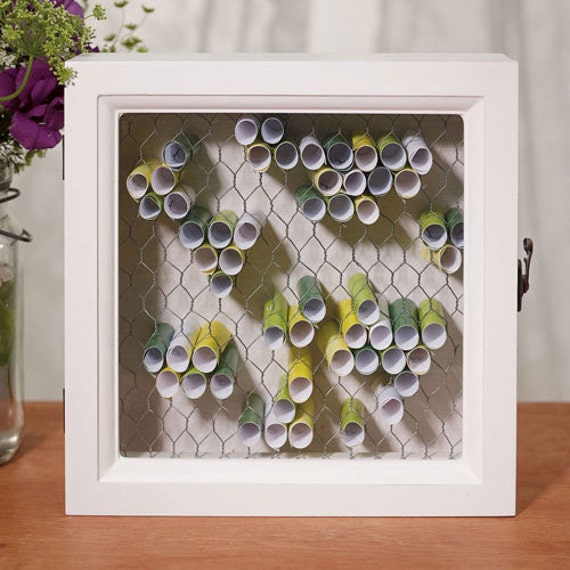 Esty (Love and Luxe Handmade)
10.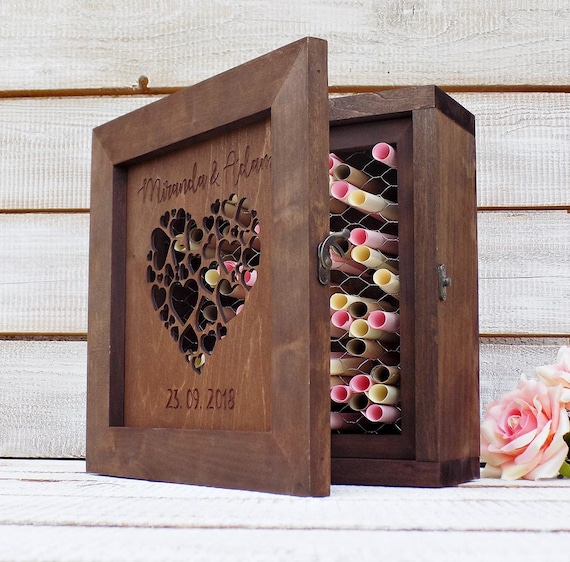 Esty (Rustic Love and Wood)
11. The Couch Guest Book - Couch Surfing
The
Couch Guestbook - Couch Surfing -
Offering clever prompts and space to doodle, this book lets you remember relaxation time with friends. Social couch potatoes rejoice! Keep track of your movie night partners, game day co-fans, and binge-watch buddies with this visitor's book. Offering clever prompts for your guests and space to doodle, this fabric-bound book lets you remember makeover show marathons, gossipy catch-ups, and relaxation time with friends--they can even grade the ambiance and rate the overall couch experience. Made in China.
Uncommgoods
12. The Star Wars-Themed Guest Book
The traditional guestbook with a twist
-
Star Wars-themed Guest Book
Star Wars Personalized Wedding Guest Book Custom Guestbook Alternative Book Wood Guestbook Ideas.
Add your names, wedding date, a pic if you want, and let the book speak for itself.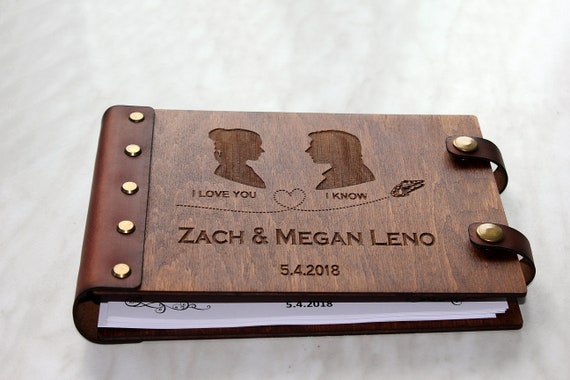 Esty (Enjoythewedding)
13. The Farmhouse Sign Guest Book
The
Farmhouse Sign Guest Book

-
Knot & Nest's farmhouse wedding guest books allow you to uniquely capture sentiments from your wedding guests and afterward, you have a cherished piece of art for your new home.
Esty (Knot Nest)
14. The Prescription for a Happy Marriage Guest Book
The
Prescription for a Happy Marriage Gu
est Book
-
Attention all brides and grooms who are in medicine! Your guests will love this and ready to give you their Rx for a happy marriage. Tailor with your colors, names and so on!
Esty (BellaBellaByNicole)
15. The Photo Guest Book (snap it, shake it sign it)
The
Photo Guest Book (snap it, shake it sign it) -
This sign is the perfect compliment to your wedding photo guestbook! Let your guests know what to do with their instant photos so you always remember who came to celebrate your love.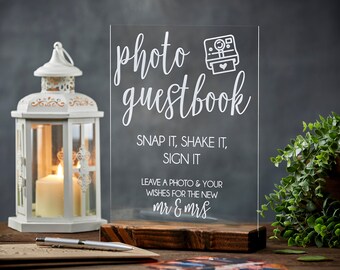 Esty (Rich Design Co)
Share in the comment box your favorite! Tag a friend who you know is getting married and share this with her.
Call for a FREE 30-minute phone consul, today!
Posted: July 11, 2018 |
Updated: August 1, 2019