Wedding Style Catering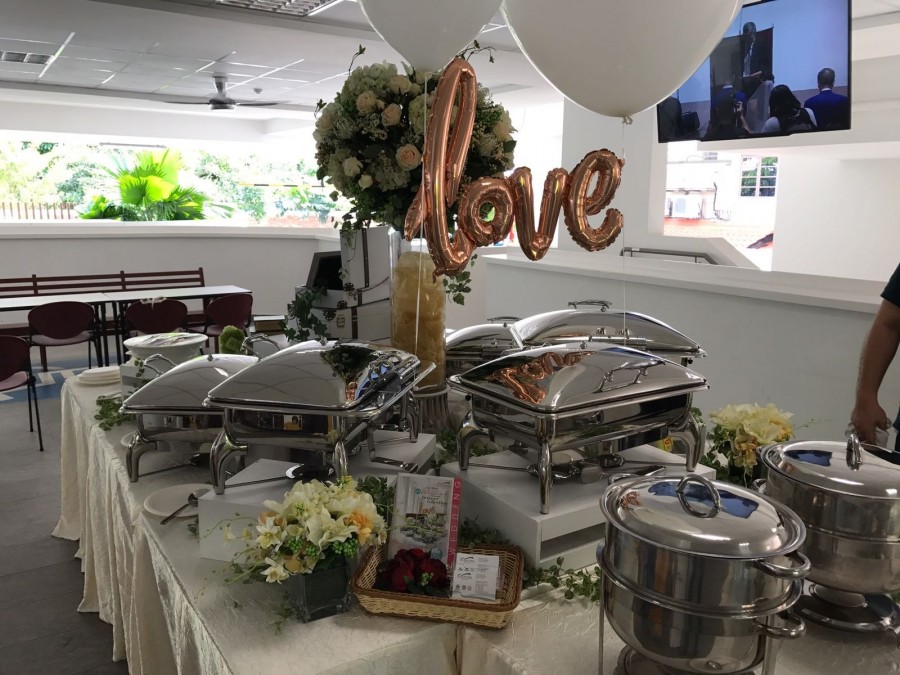 Source: Foodline
On top of all the considerations that go into wedding planning, choosing between a buffet and plated dinner service can be a bit daunting.
We know wedding details like dinner must be perfect for you and your spouse-to-be. In order to provide you a helping hand, we have broken this tricky decision down into a tidy list of pros and cons for each option.
Pros and Cons: Buffet-Style Wedding Catering
Less Expensive Service (Usually):

Since guests are likely serving themselves, you may not require staff to serve plates. With less personnel generally comes fewer costs. Though at times a buffet can be more expensive, more often than not, it is the less costly choice. Keep in mind that staff will still need to set glassware, utensils, napkins, and centerpieces.

Greater Variety of Food:

Buffets are fantastic options for picky eaters. If your 4-year-old niece doesn't like her roasted potatoes, no problem.

Fewer Logistics:

No need to keep track of who ordered the fish when you select a buffet. Aunt Susie can snag a bit of whatever her heart desires.

More Casual:

This could be a pro or a con depending on your vision for your special day. If you're going for a laid back vibe, a buffet can be a wonderful option.
Guests Eat at Irregular Times: It can be hard to stay on schedule when guests are returning for seconds and thirds.
Wasted Food: If the Brussel sprouts aren't a hit, you may be stuck with a leftover vat of them at the end of the party. This could mean some of your food costs go down the drain.
If you do decide to do go with a buffet, here are a few tips to follow:
Weddings by KMich Newsletter
Interested in getting more wedding tips, trends & DIY ideas from K'Mich? Sign up to receive our fabulous newsletter every Thursday and every other Wednesday
8 Tips for Setting Up a Great Buffet
1. Consider the movement of your guests and plan accordingly.
2. Always serve tables that are further away from the buffet and move accordingly.
3. Serve in Waves - Have a waitstaff direct each table to the buffet - from back to front
4. Put drinks on a separate table from the food.
5. Plates at the front, cutlery at the end or set tables with them
6. Put out multiple stacks of everything
7. Arrange the food table strategically
8. Have 2-3 waitstaff clear tables as guests are finished eating, replenish water and wine.
Related: (previous post)
Food + Drink Tips
Pros and Cons: Plated Dinner-Style Wedding Catering
No Lines:

During a plated service, guests can chat and relax at their tables while dinner comes to them. There's no need for your beloved Gran to stand in line for her lasagna bolognese.

Food Won't Run Out:

Because everything has been planned in advance, you don't risk running out of dishes.

Guests Eat at Regular Times:

Plated dinner service runs on a schedule, thus helping keep the moving parts of your wedding running smoothly so you can relax and enjoy yourself.

More Formal:

The elegance of a plated wedding can't be understated. If you want a touch of glamour, nothing beats this formal service.
CONS:
More Expensive: The extensive wait staff required at a plated wedding can be on the pricey side.
Less Variety of Food: Picky guests may not be happy with their plate choice, however, since options are limited, they may not be able to send it back.
More Planning: This service requires more planning upfront. That being said, once dishes are chosen, you can sit back and relax.
Less Flexibility: Did your vegetarian cousin Liz forget to select her dish in advance and ended up with chicken? She may be stuck with the only option available.
Still, feeling overwhelmed by wedding details? Call us for help. We provide exceptional wedding services. Are you planning on plated or buffet? Share below your catering style.

If you want to know more about us or get the very latest trends and best practices to help guide your planning, check out our About Us page, then follow us on Pinterest or IG for more awesome wedding soiree ideas, and subscribe here at this link.