6 Ultimate Wedding Reception Seating Ideas
So, your Aunt Suzy and Uncle Bill have been feuding since the 90s, your last single girlfriend is hypersensitive to being seated at the "wrong" table, and you have one couple coming from out of the country who only knows you and your fiancé.
What to do? With a little tact, diplomacy, and common sense, you can create a seating plan that will make almost everyone happy...
Instead of using the traditional way to have guests identify their tables, try these unique ways.
How to create a seating chart that will blow your guests' minds
1. Seating Assignment Board
Here is a great way to get your guests to mingle. Instead of doing the traditional seating arrangements, create a seating assignment board. Use the table numbers to attach all the names of your guests that will be seated at that particular table... You can use a backdrop to complete your wedding theme or use a simple colorful easel that will complement your wedding theme. Have fun!
Weddings by Kmich Newsletter
Interested in getting more wedding tips, trends & DIY ideas from K'Mich? Sign up to receive our fabulous newsletter every Thursday and every other Wednesday
2. Bridal Bliss Board
Double Duty:
Each guest's escort card was attached with a tack (Be creative. Use something that shows your personality). Guests can check to see where they are seated and take a mug home as a favor.
Guests will love to take a mule mug home as a favor
3. Mules for Escort and Favors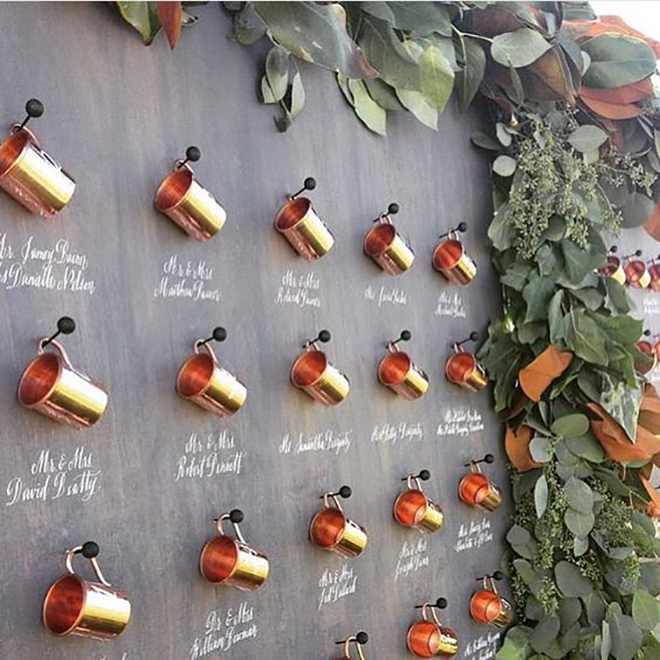 4. Use a Seating Display to Tell Your Story
5. Camp Themed Seating Chart Display
Instead of assigning seats, here is another fun way to make sure all your guests get to know each other and have fun at the same time. Place all the table numbers/ table names (names can be of both couples' favorite places they have been or their favorite color, you get the idea) in large jars (2 the most to prevent crowding in one area) and position them close to the reception entrance.
As your guests mingle during the cocktail hour, have a couple of wait staff stand close to the jars (or place a sign telling them what they should do) and invite them to pick a number/name; the number/name that they select will be their table for the rest of the evening!
This a great way of mixing it up a bit and to prevent feuding family members from sitting together. Be creative!
Updated: 10/11/21